We are pleased to announce that we've moved our children's programming to earlier time slots to provide these stories and teaching programs at times that would be more convenient for this special audience.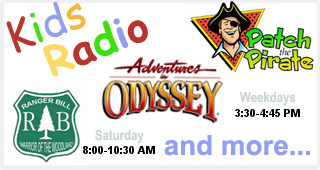 This was only done after much thought and input from our listeners.  During the week, children's programming used to start at 4pm and was in a one-hour block.  When we started airing Adventures in Odyssey, it was simply added after the other programs, putting it into a time when listeners were commuting and preparing for their evening.  By moving these programs up to 3:30, they are airing in the "after school" time block.  And, placing them back-to-back, they are finished before 5pm.
Saturday programming also began later in the morning, at 9:30.  Most children are up well before this time, and families are starting their Saturday activities well ahead of the noon time that the programs ended.  We now start the airing of the programs at 8am, and finish them before 10:30.  Of course, Bible Quiz will continue to air during this time, so be sure the kids (12 and under) listen carefully to win a Walmart gift card!
In making these changes, a couple of other programs were affected.  Here's a list of the changes:
Monday through Friday
Story Time moved from 4:03 to 3:31pm
Adventures-Bookshelf moved from 4:18 to 3:46pm
Stories of Great Christians moved from 4:33 to 4:01pm
Keys for Kids moved from 4:48 to 4:16pm
Answers with Ken Ham moved from 4:53 to 4:21pm
SRN News moved out of the time slot (airing at 3 and 5pm)
Adventures in Odyssey moved from 5:03pm to 4:22pm
Saturday
The Gospel Hour moved out of the time slot from 9:05 to 6:31am
SRN News moved out of the time slot, airing at 8am, then at 11am
(Note that program times for children's programs are approximate, depending on when Bible Quiz airs)
Adventures of Patch the Pirate moved from 9:35 to 8:03am
Storybook Room moved from 9:50 to 8:18am
Verse of the Week moved from 10:05 to 8:34 and 9:56am.  Verse of the Week will no longer play in the afternoons.
Adventures in Odyssey moved from 10:31 to 9:00am.  This program still airs in the evening at 8:03pm
Ranger Bill moved from 11:00 to 9:26am
Fables of Faith moved from 11:31 to 10:06am
Unrelated to the children's program schedule, we also moved Bible Tract Echoes from 4:31am to 1:18pm to reach a wider audience.
Social Share