If you read my post last month, "Of Windstorms, Processors and Dishes", you may have wondered what the big deal about "hoar frost" was when it comes to radio stations.  In light of the three power outages we had this past week, I figured it was time to expound on that thought a bit more.
At around 11:45 Sunday night while I was enjoying a restful sleep, my phone vibrated with a text message from our transmitter monitoring software alerting me that the power at our main transmitter site on Beck Mountain south of Kennewick had just gone out.
Now, as an aside, when this happens, our "backup" transmitter automatically comes on, running on batteries at low power (100 watts instead of 4100 watts), but keeping us on the air with a signal that is adequate for many of our listeners.  This backup will run about 5 hours, normally enough time for power to be restored.
Rising from bed, I made a few quick checks on the readings through my computer at home, and then called Benton PUD to report the outage.  After reaching the call center that covers overnight outages, I described our location and was assured that a crew would be investigating shortly.  That was all I could do for now, so it was back to bed for me with a plan to check on things in the morning.
Looking over the logs Monday morning, I noted that power was restored around 2:00 AM and everything appeared to be back to normal, except for the reading we see during much of the winter that ice was built up on our antenna
Another aside here, the antenna we use was chosen because it can keep on broadcasting even with a lot of ice on it.  It has indeed performed very well under those conditions, as years of service have proven.
This Monday was a work-at-home day, so I was refining some software we use on our network while the radio was playing.  All appeared normal until around 7:40 when a sudden burst of static on my radio followed by a return of a "noisier" signal told my what I would find out by text message in a couple of minutes…power was off again.
Another call to Benton PUD confirmed that they were working with power lines that had heavy loads of ice.  I know that lots of ice could build up enough to break the power lines, as we had experienced a few years ago.  With a few questions for the dispatcher, I learned that it was indeed icing that was causing the problems.  However, it was more likely that it was just causing the lines to "fault" (or short), rather than breaking them.
Once again, the PUD had us back to full power at 11:45 that morning, and all was well again.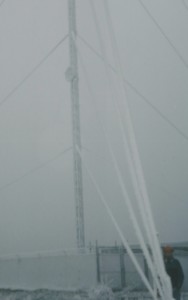 Wednesday night, just before the 7:30 live broadcast from Riverview Baptist Church, I was in the studio and had the same indications of a loss of power, which I promptly confirmed.  This time, though, it was much more widespread, affecting not only our site on Beck Mountain, but also TV and radio stations on Jump-Off Joe.  Noting my fellow broadcast engineers in this area were working on it, I was again resigned to wait until power could be restored.  This time, it took longer than the 5 hours our backup was designed to run; we were completely off the air just after midnight.  Power was restored at around 2:15 and has been on continuously as I write this.
Now, how can we get so much ice here in the Tri-Cities to cause problems like this?  After all, this isn't Alaska or some far-north place where hundreds of inches of snow are falling…
This was a lesson I learned when we first expanded to Beck Mountain in 1995.  That fog with freezing temperatures we frequently experience becomes even worse at the elevations in the hills above the Tri-Cities.  What happens is that the droplets forming the fog are still liquid, while the power lines, tower, etc are just below freezing.   These are called "supercooled" droplets, a condition well known to pilots whose airplanes become covered with what is known as "rime ice" rapidly in the same conditions. Each droplet that strikes a sub-freezing structure instantly freezes, building up over time.  Compared with aircraft, ice builds up very slowly in the under-5 mph winds that accompany the fog, but over time huge amounts of the stuff accumulate.  This ice is often called "hoar frost" but the name "rime icing" is actually a more accurate description.
I've posted a picture taken in 2004 just outside the gate of our tower.  The ice buildup is so heavy that the guy wires are sagging under the load and the antennas on the tower look like they are growing beards!  Indeed, ice in the Tri-Cities can be a very big issue when it comes to power lines, towers and transmitters!
Social Share