The new 5-ton air conditioning unit that is vital to keep our 20,000 watt transmitter cool has been moved into place at KOLU's transmitter site.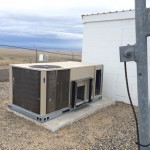 This unit is a packaged system, which requires no space inside our building.  This is important, as our once-roomy transmitter building is becoming full with a large 2-cabinet transmitter, a couple of equipment racks, along with space necessary to keep clear of electrical panels and disconnects.
Also, we met with the highly experienced engineer that is assisting us in assembling and testing the transmitter.  Tasks necessary to complete work on the transmitter were reviewed.  The good news is that the transmitter is in excellent condition, and we only need a few additional parts to begin this phase of the work.
Our electrician will be wiring the air conditioner unit and the transmitter shortly.  After this is done, holes will be cut into the building for duct work, then final work on the air conditioner will be completed.  Along with this we will begin testing the transmitter.
It's exciting to see this project nearing completion.  Please keep this work, along with the safety of all those that are helping us, in your prayers.
Social Share